Does spending $1.3 billion on the 4-lane highway above seem like the actions of a government who's just declared a climate emergency? Climate Group "All Aboard Aotearoa" doesn't think so, and are taking Waka Kotahi Transport Agency to court over their Mill Road project.
Grab the popcorn – I'm looking forward to seeing how this plays out.
There was an interesting twitter exchange between former associate transport minister and transport planner and current green MP Julie-Anne Genter, and economist Eric Crampton.
This argument intrigued me because it has implications for every other transport project in the country. I decided I'd look into the whole issue of emissions in transport a little more closely.
New Zealand has had an emissions trading scheme for the last 13 years, introduced in 2008.
It was brought in to reduce New Zealand's carbon emissions, but up till now has been ineffective. Between 2010 and 2021 emissions have grown by 29%, twice as fast as population growth over the same period.
There are a few reasons for its ineffectiveness. Up till now one of our largest emitters, agriculture,was exempt. This has resulted in more farmers converting to dairy than would have otherwise.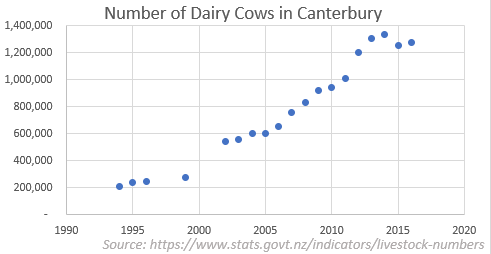 It also hasn't had a cap, meaning there hasn't been any limit on how much carbon the country can legally emit. Finally exporters who compete against international producers who don't pay for their carbon emissions are exempt.
But that is now changing and the Emissions Trading Scheme is set to become way more important than it has been till now.
Some changes have already happened. Last year government introduced a binding cap to the megatonnes of carbon which can be emitted, with this cap sinking a little each year. There were also a raft of other changes, which together make the ETS much stronger.
Other changes will likely come in soon, for example ending agriculture's exemption from the scheme.
Any business who wants to keep pumping out carbon can keep doing so, but it will get more and more expensive to purchase the credits. It also applies at an individual level. We'll still be able to burn through petrol and diesel if we really want to, but that will get more expensive as time goes by (fuel companies will have to pay more for their fuel, which will result in higher pump prices). It also works the other way. Anyone who has land planted with trees will find themselves able to sell credits and be paid more for doing so.
The Climate Change Commission has modelled what it would take to get us to our target of net zero emissions by 2050. Their modelling forecasts carbon credit prices increasing as the cap sinks.
This price increase, when combined with a host of other complimentary measures, is forecast to drive a reduction in the amount of petrol and diesel being burned by people driving vehicles.
This is caused by (1) people switching to electric vehicles:
(2) people travelling less and (3) people switching to walking, biking and taking public transport:
Despite the population growing by 14% between now and 2035, nationwide demand for car travel is expected to decline by about 5%.
So what does all this mean for Mill Road?
Well Mill Road is part of a wider plan for Auckland, which involves building more low-density sprawl connected to the city by big roads. The plan is forecast to increase car travel and emissions in Auckland. This sort of plan to accommodate future growth is not unusual in New Zealand.
But this is at odds with the Climate Change Commission modelling above. If we expect the recommendations to be adopted (noting they are not officially adopted yet), then we can expect the price of fuel to go up and the nationwide demand for driving to go down (by about 5% by 2035).
I haven't read the business case for Mill Road but I'm fairly confident it won't incorporate these expected changes. If the Auckland plan incorporated increased fuel costs to the point where demand for car travel drops by 5%, then the demand forecasts for this new 4-lane highway would drop. Possibly to the point where the business case no longer stacks up.
There are probably a few other big roading projects around the country that might find themselves in the same boat. Conversely there are a whole lot of public transport and cycling investments struggling to get through the business case process – perhaps these would have stronger cases for investment if Waka Kotahi were forced to base their business cases on the future assumptions of travel demand and fuel prices forecast by the Climate Change Commission, based on the recently strengthened Emissions Trading Scheme.
The optimist in me hopes this case might kick off changes to the way we put together business cases for transport investments in this country. The pessimist in me suspects it won't. But one can hope.